My excuse for missing The Magnetic Fields at the Royal Northern College of Music in 2004 was attending the wedding reception of my first girlfriend. As apt an excuse as any for missing the Magnetic Fields…but considering I'd gone out with her for just a couple of months 10 years previously, and the wedding took place at The Brittania Hotel  – it occurred to me as being just as good an excuse for skipping out on said wedding's reception and going to the RNCM instead. An idea I posited at the time, only to be eventually swayed by threats of violence from the bride and other invitees. How could I not stay? I'd had my chap in the mouth that made those vows.
I owed her more than just popping-in before shooting-off.
It was with '69 Love Songs' that I popped my Merritt-cherry, and it left such a mark as to likely trouble my current beau with its indelible associations – but you never forget that first time. I was turned-on to the album by a lesbian friend I met at a house party (in Whalley Range held at the HQ of integral members of the now defunct Kafequeeria Collective), with whom I shared a preternatural flirtation over the ensuing months in the form of meet-ups, mixtapes and pen letters expressing our innermost torments at our lacklustre fuck buddies…
The 672 seat capacity RNCM Theatre is patronised (along with myself by Miss Snooty-Cooch tending bar, but that's another story) with as Utopic a cross section of liberal England as I've seen outside of The Contact Theatre; there's a pipe-smoker, quilted jackets, 'fucking red trousers', couples of every permutation and myself the sole cantankerous arsehole…save maybe for American Merritt who seems a little catty with Claudia Gonson as they ping-pong prickly witticisms across the incongruously prop-strewn stage in numerous deadpan interludes to an otherwise sedate, reverent and harmonious recital.
Merritt abruptly leaves the stage, returning with a pickaxe when Gonson insinuates ownership of 'Plant White Roses', while later on a pager going-off elicits sarcastic calls for help from Gonson, to which the otherwise anonymous Sam Davol replies by abruptly conjuring a life preserver from behind him, tossing it into the centre of the stage before lapsing back into stony faced stoicism.
Erstwhile part-timer Shirley Simms on Vocal and Uke duties is deservingly sandwiched between Claudia's upright piano and reticent centre-stage duo of guitarist John Woo and Cellist Davol, with Merritt presiding over stage left, and Harmonium, Melodica and impressive array of Kazoos deserving of their own humourously contentious table.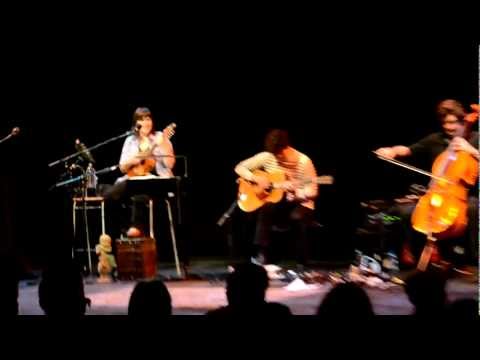 The Magnetic Fields: Come Back From San Francisco (courtesy of Rairun1)
Its blissful for me tonight witnessing a set that, 13 years on is still 1/3 heavy on, what must be for Merritt, something of an albatross in '69 Love Songs'. While eschewing the more obvious choices (no 'Papa Was a Rodeo, 'I Don't Want To Get Over You', Epitaph For My Heart', etc, etc, etc ), the set's no poorer for it, and while few of the songs are presented as immortalised with percussion and electronica absent, are surprisingly richer – further focusing the ear on the already astonishing song-writing across the breadth of the band's canon. Merritt's bowel-shaking baritone is something to behold in person.
The setlist takes-in brief visits to 'Get Lost' 'The Charm of the Highway Strip' 'Holiday' 'i' 'Distortion' & 'Realism' lingering a little longer on most recent album 'Love at the Bottom of the Sea' whose 'Andrew in Drag' and 'Quick' – which on first listen sounded derivative – offered on tonight's stripped-down instrumentation are of high a quality as to be deserving placement alongside the band's very best.
The night ends with 'Forever and a Day', from Merritt's long promised Sci-Fi musical 'Song From Venus' – a declaration of never-ending love that, while achingly beautiful is so admittedly cliché in its sentiment as to perhaps be interpreted as cynical – ends up ringing very true for fans of this band and Merritt, as he tirelessly parades his endlessly interesting, bottomless-songbook.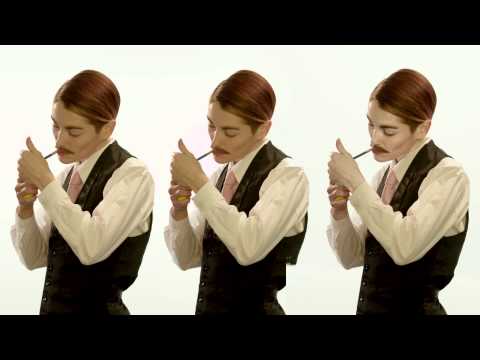 The Magnetic Fields: Andrew In Drag
*Set list*
I Die
A Chicken With Its Head Cut Off
Your Girlfriend's Face
Reno Dakota
Come Back From San Francisco
No One Will Ever Love You
I've Run Away To Join The Fairies
Plant White Roses
Drive On Driver
My Husband's Pied-A-Terre
Time Enough For Rocking When We're Old
The Horrible Party
Smoke & Mirrors
Going Back To The Country
Andrew In Drag
Quick
Busby Berkeley Dreams
Boa Constrictor
The Book Of Love
Fear of Trains
You Must Be Out Of Your Mind
Grand Canyon
Swinging London
It's Only Time
Smile! No One Cares How You Feel (The Gothic Archies)
*Encore*
All My Little Words
Forever & A Day
Photos courtesy of Andrew "McKuw" Maddern 
Comments from Facebook
comments