So I saw The Phenomenal Handclap Band at the Night and Day Cafe on Friday night. I was asked to write a review so I went in with the express intention of making notes so that the day after I could write something coherent, evocative and witty for you to read here. Unfortunately TPHB had other ideas. Literally from the first bar they had a packed N&D dancing, grinning, and generally having a right old party. No way was I going to be the square at the back with a notepad so I went to the front to dance, grin and have a right old party. I stayed there all night.
Later back home I sat down with the express intention of writing something coherent, evocative and witty for you to read here, so I made some notes on the Handclap Band while my ears rang.
1. They were brilliant.
2. I don't know any of their names, but this seems strangely unimportant.
3. The rhythm guitarist was dressed like Slade nightmare. Likes to count down with his fingers inappropriately. Looks like the keyboard player from French and Saunders' backing band Raw Sex. Despite all this, very cool.
4. The strange curtain-haired keyboard playing singer wore a furry waist coat. Where do you buy furry waistcoats from anyway? He could have been the estranged hippy child of a red-neck lumberjack. He made sounds not heard since the disco version of the Star Wars theme. Amazing.
5. Female basists are somehow superior in every way to male ones. There's no actual evidence for it but it's a fact! TPHB's bassist  looked like Karen O's sister and could probably join any band she wanted. Still, she chose to be at the Night and Day playing with the Handclaps and for that we should be grateful.
6. So sexy lead singer/tambourine artist. I think she looked at me once! OMG! OMG! She wore a black leather jacket and looked like the distilled essence of New York cool.
7. Lead guitarist, probably a genius, looked comparatively normal, kept in the background apart from a two minute solo when he strode forward to casually tear up the room, standing astride the monitors like a behemoth. A disco behemoth!
8. Drummer. Long curly hair . Very good. Didn't see him much.
9. Everyone was dancing. It was packed too. Recent coverage on Radio 6 would have helped the band's profile. Early patronage from the mighty Pig Radio had brought me on board already. They certainly know how to market themselves to their strengths. "Buy our merchandise later, and you can talk to her" the Slade nightmare announced, pointing at the tambourine goddess. I checked if I had enough money for a CD. Result!
10. They are the kind of band that will ALWAYS sound better live than on record so catch them live now. Then buy their records.
11. No vinyl in the merch, perhaps their seventies discofunk-mobile didn't have enough room. Shame.
12. Apparently they're about to go touring with Bryan Ferry. Watch them then leave early.
13. First Chelmsford, then Manchester, then on to Birmingham, then Switzerland, then Paris then Germany, then Washington D.C. Connect the dots on the map and it draws the shape of DISCO!
14. Singing tambourine goddess signed my CD!! I will never wash it. EVER!!!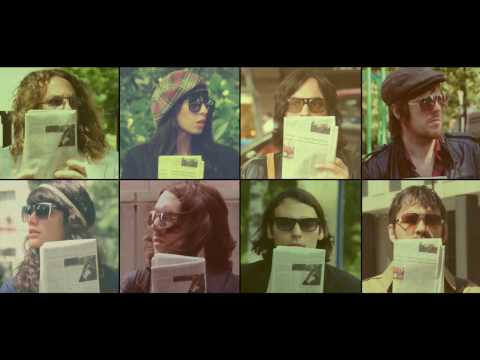 They grabbed the room from the first number and didn't let go. It was the sound of an out-of-control seventies pysch-out disco loft party in New York. Funky, joyous, infectious fun. The best bands look and sound as if they've been beamed onto the stage from their own planet where everyone is somehow more talented and charismatic than us mere earthlings. TPHB obviously come from that planet, it's just that their transporter is on the blink and they were delayed for thirty years. Still, music might have moved on but only in a circular motion. I suspect that TPHB's arrival here was perfectly timed. Our planet will benefit from their grace and wisdom and disco-pop stylings. Now to wipe that damn ink stamp off my hand.
Comments from Facebook
comments